Interview with Jonathan Ikeolumba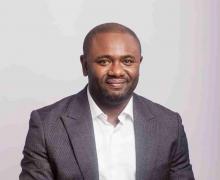 Grow Learn Connect: How long have you been working in the training business and when did you realize you wanted to be a training professional? 
Jonathan Ikeolumba: In 2007, I began my journey as a training professional with a financial institution that to my good fortune had a robust graduate training school program. As the top graduate of my class, I found myself training the rest of my classmates. It slowly became clear to me that I had an aptitude for training others and I decided to pursue training as a profession. I now draw from 14 years of experience in this field.
---
GLC: How did you become an expert in budgeting and cash flow management?
JI: I trained as a certified chartered accountant with two main accounting bodies: the Institute of Chartered Accountants of Nigeria (ICAN), a popular local accountancy body in Nigeria, and the Association of Chartered Certified Accountants (ACCA) in the United Kingdom. During this training, I specialized in budgeting and financial management, including cash flow management. Throughout my professional career, I have prepared and managed budgets and cash flows for many clients, including financial institutions, and I am well versed in both skills.
---
GLC: How does your expertise as a certified chartered accountant and a certified IFC-LPI TPMA trainer come into play? Are you able to use both certifications to expand your business offering?
JI: I bring both core technical expertise in financial management (as a result of my accountancy training) as well as proficiency and best practices in training (on account of my IFC - LPI TPMA certification). A large number of our training clients also ask for in-depth financial advisory and consulting services, and conversely, we have a lot of clients seeking financial services who go on to ask us to train their internal teams.
---
JI: I am the lead trainer and managing partner at Officelord Consulting, which focuses on enhancing workplace productivity, through improving the financial management, and strategy execution capabilities of our clients. We offer training, research, and advisory services.
---
GLC: How did the OfficeLord Consulting practices change since the company became a signatory to the IFC Principles for Learning?
JI: Becoming a signatory to the IFC Principles for Learning has been a significant milestone for our firm. For starters, it advances the Sustainable Development Goals (SDGs) which is something we are very passionate about and deeply committed to. And more specifically, it enables us to assess the impact of our training and measures our success based on best standards and practices. We are now able to assess our programs along the crucial metrics: inclusion, gender balance, post-program support, impact, and scope for scale. These metrics have redefined our approach to delivering training, and have subsequently enhanced the value we bring to our clients.
---
GLC: What were some of the impactful training projects you implemented? What was the key to their success? 
JI: Examples of a few impactful training projects that we implemented include: 
•    Financial literacy programs for women-led businesses in Nigeria
•    The impact of sustainability reporting for SMEs in Nigeria
•    Budgeting and cash flow management for SMEs in Nigeria
•    Tax management for SMEs in Nigeria
•    Building a sustainable financial model for SMEs in Nigeria
•    Alternative sources of financing for SMEs in Nigeria
The key to our success—during the implementation of these training projects—was to first spend time understanding the training gaps that existed in the SME space and ensure that, right from the onset, the training addresses an actual gap. We also made sure that the design of the training curriculum allowed for effective participation. Since a lot of the training sessions were conducted online using digital platforms, we were able to share training recordings, enabling audience members to rewatch and refer back to aspects covered during the sessions.
---
GLC: What aspects of training are the most challenging for you?
JI: I find designing a training curriculum for learners who don't have a strong background in finance to be the most challenging aspect of training. Sometimes as a trainer, you can make an incorrect assumption that the audience has low literacy levels and design your training at a level that's too basic for their actual requirements. And, other times you can assume that the audience is well-versed with financial terms and concepts when in reality they need basic training. 
---
GLC: What are the three things that most people don't know about you?
JI: I love soccer and I'm an ardent fan of Arsenal FC in England. I have over 20 finance and business qualifications and I spend a lot of my time supporting charitable causes, particularly those that work towards ending systemic inequalities.
---
GLC: Describe yourself in five words.
JI: Passionate, enthusiastic, interesting, enterprising, and innovative.
---
GLC: What sports do you play?
JI: Soccer, table tennis, and volleyball.
---
GLC: What is one thing about Nigeria that people living in the rest of the world should know?
JI: What stands out most for me is the enterprising nature of Nigerians living around the world.