Interview with Sandra Ihenacho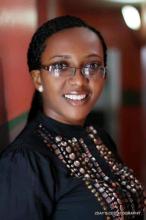 ---
Grow Learn Connect: Sandra, you joined the GLC training program in 2019. What were some self-identified gaps that you wanted to address?  Did the program meet your expectations? What were a few new skills that you gained through the programs?
Sandra Ihenacho: Although I have been teaching since 1998, both formally and informally, I realized that I didn't 'know it all'. I was keen to improve my own performance as a trainer, learn better ways to facilitate learning, and acquire techniques to enhance participant engagement—particularly with adult learners. The GLC program met and exceeded my expectations. Looking back, I'd have to say that being introduced to the training needs assessment (TNA) was an eye-opener. I always kick-start any training program with a TNA and I've seen the immense value that this brings to the learning process. 
---
GLC: Sandra, you consider yourself the "People Surgeon", while your students call you "The Oracle". How did these nicknames become part of your identity?
SI: [Smiling] I began referring to myself as the 'Oracle' a few years ago because the term really resonated. An Oracle is one who sees, knows, and does things in ways others may not do or know how to do. I believe that I play this role as a mentor and as a coach. I also came up with the name 'People Surgeon' for myself because a lot of what I do involves bisecting, dissecting, and uncovering the root-cause of an issue—particularly people's issues. I love working with people, finding ways to guide them, and enabling them to excel. I strongly believe that there is something great in each of us, and we need to tap this greatness and cultivate it. 
---
GLC: In 2013, you won an award from Career Nations in Ghana in recognition of your mentoring roles. What inspired you to become a mentor? Please tell us how being a mentor helped you change other people's lives. 
SI: Being a mentor came naturally to me. I love helping people become the best they can be. It is incredibly satisfying to be a part of someone's journey—watch them discover themselves, harness their own greatness, and grow into better versions of themselves. I feel privileged to have had this opportunity to be a part of this change in other people's lives.  
---
GLC: You believe that people are key to the progress of any organization. What led you to believe that? Was there a specific situation in your life that made you more people-oriented?
SI: I always say that "people can either make or mar your business," so treat them well. Throughout my career as a consultant, I've observed that people are pivotal to the success of any organization. And, when treated well, your employees will go to bat for your business and ensure that it thrives.
---
GLC: The topic of your webinar is how to make coaching work. How did you become a coach? What would you recommend to other training professionals who would like to become coaches?
SI: When I first began training people on how to use coaching skills, it was a relatively new field in my country. I wasn't certified at the time, but I trained people at all levels of leadership across different organizations on how to use coaching skills—and learned through experience. I've come to realize that people value certification above experience, and this motivated me to get certified. I'm now a certified transformational coach, specializing in executive, life, and performance (ELP) coaching. 
I would encourage other training professionals—particularly those with considerable experience—to get certified as coaches. Coaching others is powerful and transformational for both the coachee and the coach. 
---
GLC: According to Ken Blanchard, an American author, business consultant, and motivational speaker, when you stop learning, you stop growing. How do you keep growing as a professional?
SI: The key to continuous growth, for me, is reading. I read voraciously on facilitation, learning, and curriculum design. I also attend training programs, certification courses and conferences related to learning and development, so as to enhance my skill set and improve as a facilitator.  
---
GLC: What sports do you play?  
SI: I recently learned how to swim, and I thoroughly enjoy it. Although I was learning to swim for the first time, within five minutes of entering the pool, I was able to tread water—it came naturally to me. 
---
GLC: What is one book by a Nigerian author you would recommend to someone who is not familiar with the Nigerian culture?  
SI: I highly recommend 'Things Fall Apart', a critically acclaimed novel by Chinua Achebe