Conference
–
09:00 am - 06:00 pm
GMT : +00:00, Africa/Accra
Learning and Development Africa Conference 2023
Learning and Development (L&D) Africa is Calling for Abstracts for oral presentations for the Annual L&D Africa Conference 2023 in Accra on 15th September 2023.
The theme for this year's event is "Accelerating Africa's Sustainable Development: L&D as a Catalyst to Africa's Sustainability."
The L&D Africa Conference seeks to create a platform and avenue for African L&D professionals to meet as one unified body, discuss trends and innovative interventions in the L&D space, and share home-grown ideas and solutions to peculiar challenges within the context of international best practices.
This year's conference will be held on 15 September 2023 both online and in person (Alisa Hotel, Accra). Our theme is "Accelerating Africa's Sustainable Development: L&D as a Catalyst to Africa's Sustainability." The conference aims to explore the vital role of learning and development (L&D) in driving sustainable development across Africa.
Objectives
The primary objectives of the conference are as follows:
Raise Awareness: Increase awareness and understanding of the crucial role that L&D

 

plays in promoting sustainable development in Africa.

Knowledge Sharing: Facilitate the exchange of ideas, experiences, and best practices.

Policy Dialogue: Provide a platform for policymakers, researchers, and practitioners to 

discuss policy frameworks, initiatives, and partnerships.

Capacity Building: Equip participants with practical skills, tools, and strategies to

 

enhance L&D practices and contribute effectively to sustainable development efforts.

Collaboration and Networking: Foster collaboration and networking opportunities

 

among participants.
Conference Format:
The conference will be a one-day event and offer activities that allow open dialogue and self-reflection. It will include the following key elements:
Keynote Addresses: Distinguished speakers will deliver keynote addresses.

Plenary Sessions: Panel discussions and interactive sessions will focus on key topics such as sustainable development goals, L&D strategies, AfCFTA, and policy framework.

Case Studies and Best Practices: Presentations from organizations and projects showcasing successful L&D interventions in Africa.

Workshops and Training Sessions: Practical workshops and training sessions will equip participants with skills, methodologies, and tools.

Policy and Research Dialogues: Discussions on policy frameworks, research findings, and evidence-based practices.

Networking and Collaboration Opportunities: Dedicated networking sessions, breakout groups, and social events.

Exhibition Area: A designated space for exhibitors to showcase innovative L&D solutions, technologies, and initiatives that promote sustainable development.
You are invited to submit abstracts covering any of the following conference topics:
Synergizing L&D and Sustainability: Fostering a Circular Economy for Africa's Prosperity. This thought-provoking session will explore the exciting intersection of Learning and Development (L&D) and sustainability. By embracing the principles of a circular economy, we can unlock new opportunities for sustainable growth and economic prosperity across the African continent.

Best Practices for Integrating Sustainability into Learning and Development in Africa: This session will showcase successful examples of L&D programs that have integrated sustainability practices in Africa, including case studies and best practices from leading organizations.

The Role Business Service Providers in L&D play in achieving Africa's Sustainable Development Goals, with special emphasis on AfCFTA: This session will focus on the role of Business Service Providers in achieving Africa's Sustainable Development Goals (SDGs), with a special emphasis on the African Continental Free Trade Area (AfCFTA). It will explore how these providers can support the SDGs through targeted training programs, bridging the skills gap in Africa, and promoting learning and development initiatives. Additionally, the session will discuss the significance of Learning and Development (L&D) in promoting and ensuring the success of AfCFTA.

Developing Sustainable Leaders: This session will examine how L&D programs can be used to develop sustainable leaders who can drive sustainable development in Africa. This is central to Building a culture of continuous learning for sustainable growth in Africa. Also central to this is on leadership supporting Talent retention and reducing employee turnover.

The Future of Learning and Development in Africa: This session will explore the emerging trends and technologies in L&D that can support sustainable development in Africa, including e-learning tools, virtual training platforms, and mobile learning solutions.

Collaboration and Partnership for Sustainable Learning and Development in Africa: This session will highlight the importance of collaboration and partnerships in achieving sustainable development in Africa through L&D, including partnerships between the private sector, governments, and civil society. This can help with fostering innovation, new entrepreneurial opportunities and supporting the enhancement of customer satisfaction across the eco-system.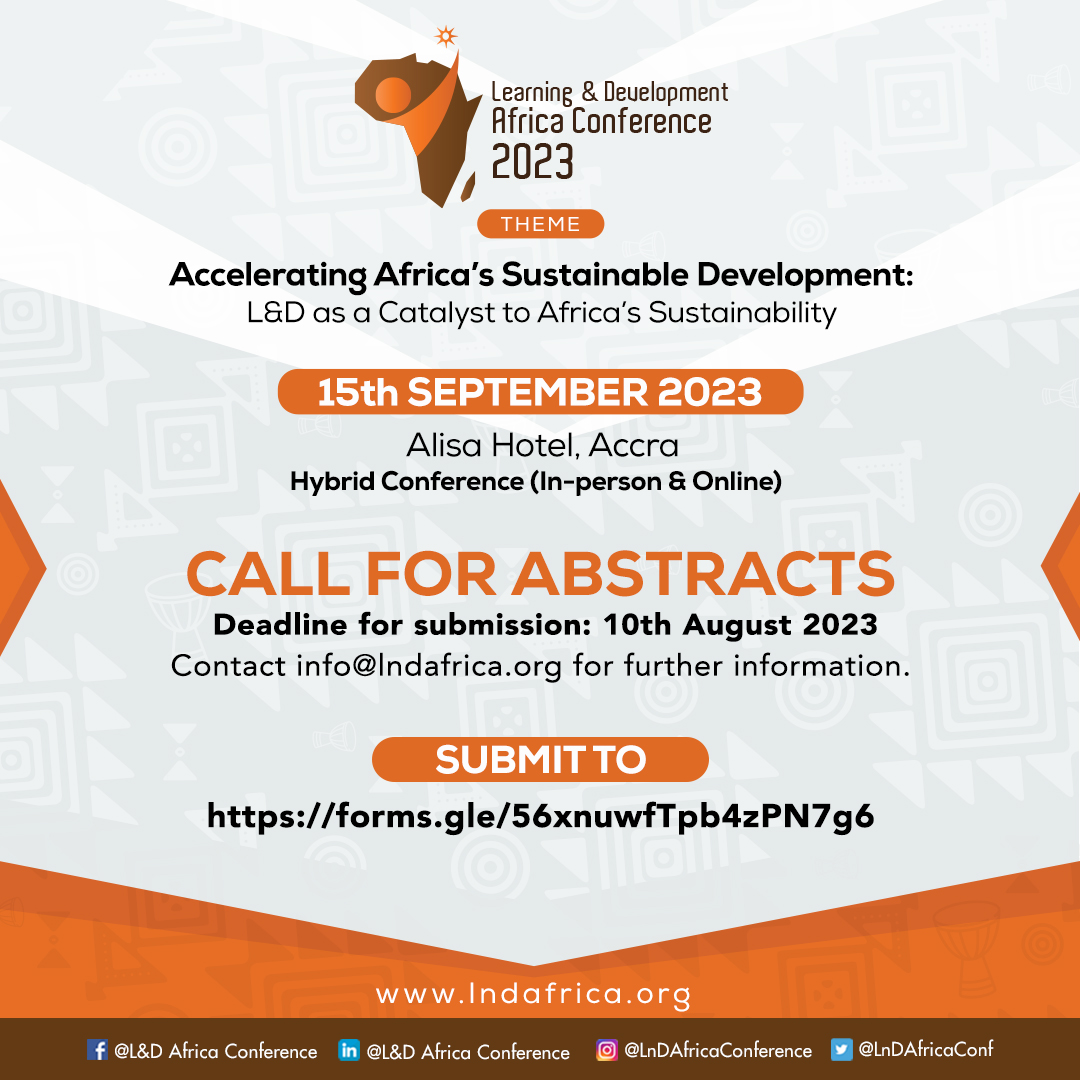 ---
---