Interview with Fatma El Maawy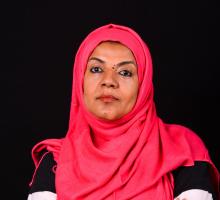 Grow Learn Connect: Fatma, before you became a trainer and CEO of Milestones Resource Solutions, you held senior management positions with several airline companies. What brought you into the airline business back then?  
Fatma El Maawy: I was young and working for an airline seemed like fun! I initially worked at the Ministry of Foreign Affairs in Kenya and later moved to Kenya Airways. We were the first recruits of Kenya Airways 'Management Trainee' program, recruited to take the airline into the future. Kenya Airways felt, being graduates, we would infuse the much-needed skills (at that time) due to our academic background. We trained in all facets of the airline business, including engineering stores and cabin crew.
---
GLC: Why did you give up the flying business and come down to earth, so to say?
FE: Success was my undoing. I was headhunted to join Emirates from Kenya Airways. I worked mainly in marketing and business development, seeking new markets/products for the airlines. I appointed agents and developed destinations we were to fly to. 
I flew a lot and literally lived out of my suitcase. I had a young family, and my girls were growing. They needed a mother. Additionally, I had reached the ceiling in Kenya, and I had to move to bigger stations. And so, I declined the promotion in order to stay in Kenya. 
---
GLC: What lessons learned from the airline business helped you become a successful trainer and businesswoman?   
FE: Without customers, there is no business—it is as simple as that! They set the pace, and the spotlight is always on them. The customer is the most important person in your business. Always add value and they will remember you.
---
GLC: How did the idea of founding your own management and training consulting firm manifest? 
FE: Milestones was started to share ideas and knowledge. While working with Emirates in opening new areas, I noticed great service inconsistencies within countries. I started training so that service standards within Emirates' offices can be at par with each other. From customer service, I moved to sales, etc. I started training before I formally became a certified trainer. 
---
GLC: Why did you pick the name Milestones Resource Solutions for your business?
FE: Actually, the name and logo have great meaning. Each one of us goes through various milestones in our lives to achieve our goals. The colors green, brown, and orange indicate growth, brown is the earth, green is about being grounded to reality, and orange is the gold you seek to achieve.
  
We strive to inspire people to aspire/achieve growth in their spheres.
---
GLC: What are some training projects your company delivered that you are most proud of? 
FE: In Somaliland, we trained women and youth on how they could lead change. The training focused on how they could use their current position to grow their businesses. Economic empowerment and growth reduce conflicts. The focus was on how we evolve and how we should not be static no matter how hopeless the situation may seem.
With the Gulf Bank in Kenya, we coached after the training and we got a number of staff members to go back to school for higher education/certifications.  The focus was, when one produces good work, the individual grows as a person, not just the organization.  
With the KCB Biashara Club and GOWE project (Growth-Oriented Women Entrepreneurs), we trained and coached women. Afterward, most of them informed us how their businesses grew, and others ventured into other sectors. 
We also engaged in COVID-19 training. This seemed like a hopeless situation where businesses were on their knees. I collaborated with another IFC trainer, Sarah Mbinji, and our focus was on shifting mindset, and how we can do things differently for business sustainability and growth. Many businesses actually grew, despite the pandemic.  
---
GLC: Tell us about other positions you hold besides being the CEO of Milestones Resource Solutions. 
FE: I am the second vice president of the Kenya National Chamber of Commerce. The chamber of commerce is a global association of businesspeople focusing on the development of trade, policy development, and advocacy for positive business environments. I also sit on three boards—National Irrigation Authority, Wezesha Business Network, and Fanani Afrika. The Authority seeks to irrigate and rehabilitate arid areas in Kenya, while the other two are CSO's (community-based organizations) whose mandate is empowering SMEs.
I am also a master trainer for the Center of International Private Enterprise. I train in business ethics and assist organizations with the transition to clean/ethical enterprises.  I am a mentor and business coach.
---
GLC: You volunteer as a business mentor with Cherie Blair Foundation for Women, as an advisory board member with the World Youth Parliament, and as a woman business network mentor with the World Islamic Economic Forum (WIEF). Why did you choose these projects for your volunteer work, and what benefits do you see in volunteerism?
FE: I heard about Cherie Blair and wanted to give back, so I contacted them. Due to my workload, I have not coached with them for a while. 
As for WIEF, I was their student and the relationship evolved. 
I joined World Youth after I trained some of their members. 
As for the benefits of volunteerism—it is good to give back. We are lucky to be born where we were or to have such opportunities. Many brighter people were not so lucky.
When you give, you receive (Biblical isn't it—the hand that giveth?). You may not necessarily get the financial reward, but you receive it in other ways. 
---
GLC: You once mentioned that you don't market your training business anymore and that clients usually reach out to you. I bet not every trainer can say the same about their business. What piece of advice would you give to new trainers or those who haven't quite benefited from word of mouth yet?  
FE: Do More. Give More. Be More. Give the best service irrespective of the amount you are being paid. Never forget the small businesses that gave you work when you were growing. They will always remember this and refer you. 
---
GLC: What are your strengths as a trainer? Where do you think you could do better as a trainer?
FE: My strength is in creating and delivering value. 
Connecting and aligning organizations' missions to individual aspirations. We focus on the energy of organizations so that people move together. We inspire individuals to aspire for growth in their chosen fields. 
Where could I improve as a trainer?—I take too much time in client research. This can be costly to the company as we spend more time than the client may be willing to invest (in terms of time). 
---
GLC: Your company is a signatory to the IFC Principles for Learning. What has changed in your company's practices since you decided to uphold the Principles? Or is there anything you're planning to change? 
FE: Our biggest motto has been creating impact and sustainability for individuals as well as the organizations they represent. This aligns growth and creates win-win situations. 
What I would like to change is putting more effort into inclusivity. I used to work with teenage mothers in the slums in Mombasa. Though most of them became pregnant as a result of rape, the girls had to drop out of school to look after their babies. 
We trained these young mothers in entrepreneurship so that they could sustain themselves. 
---
GLC: What are your hobbies? Are there any hobbies you would like to explore? 
FE: I do not have a lot of free time nowadays. I spend my time either reading or playing with small children. It keeps me grounded and I enjoy their innocence and a care-free attitude. 
I love traveling so I would love to do more of this.  
---
GLC: I bet training is not always a serious business. Tell us about a situation when you had a good laugh or about something that made you smile. 
FE: We went into a small village to train for a bank. Two of the participants were old ladies doing coconut seedlings. I noticed they were not participating, so I approached them during the break. They confessed they did not understand English. Henceforth the class continued in Swahili and their business became their group's case study. There was so much camaraderie that the whole class joined in to give ideas on how they could grow their coconut nursery business. At the end of the two-day training, they brought young coconuts to the whole class for us to toast with and celebrate their 'graduation.' 
Another instance was when we were doing a company-wide training and there were the senior officials (CEO, GM's, etc.) who had to sit at the same tables during customer care training. It was a bit uncomfortable at the beginning until we introduced a game where a ball had to be passed around without using hands or feet. You can imagine the contortions of the bodies to get this done. It was fun and left everyone laughing and helping each other. The tension disappeared and the lesson was that they all needed each other for a customer-centric organization to work!
---
GLC: What are your three favorite books? 
FE: I read a lot. I read about different aspects of life. My three favorite books are:
1)    This Child will be Great by Ellen Johnson Sirleaf—Africa's first woman president
2)    Good Strategy, Bad Strategy by Richard P. Rumelt
3)    Why Nations Fail by Niall Ferguson
---
GLC: What is your favorite place to visit?
FE: I enjoy nature—the beach, forests, and deserts. After that, where I can go shopping. 
---
GLC: What do you associate yourself with?
FE: I always associate myself with a drink: My brand is Fanta Orange (by Coca-Cola). It is sweet, it is bright, it is fun-loving, and colors every gathering.