COVID-19

,
Online learning

,
Success story

,
Non-Financial Services: A Crucial Lifeline in Times of Crisis
September 08, 2021
IFC enabled financial institutions to deliver skills-building programs for their MSME clients in emerging markets thus bolstering resilience during the pandemic.
COVID-19 impacted businesses around the world, particularly micro, small and medium enterprises (MSMEs) in fragile and conflict settings—reducing consumer spending, disrupting supply chains, and straining access to finance. Over 90% of entrepreneurs in IFC's Business Impact Survey (2020) reported a reduction in demand. MSMEs urgently needed to build their capacity to adapt to the economic downturn and digitize their businesses.
IFC's Grow Learn Connect (GLC) project identified that financial institutions were not only well placed to facilitate capacity-building programs for their MSME clients, but also had a strong incentive to do so. By enabling their MSME clients to mitigate business financial risks and maintain access to finance, financial institutions could reduce NPLs, enhance customer loyalty, and improve their bottom line.
Capitalizing on this pressing need, IFC developed several webinars designed to build MSME resilience in emerging markets and delivered over 230 COVID-19 response webinars to over 15,000 MSMEs in 31 countries, in partnership with financial institutions. Additionally, IFC deployed tools and resources across 10 FCS and 20 IDA countries in Asia-Pacific and the Middle East, and Africa to enhance MSME capacity among underserved groups.
In war-torn Yemen, Taha Eskandar, head of Al Kuraimi Bank's microfinance department, noted a similar need for capacity building among clients in the region:
"We realized that COVID-19 was impacting certain businesses more severely than others, particularly very small enterprises, and we wanted to support our clients through this difficult period."
Wasim Salfiti, senior director at Bank Al Etihad in Jordan emphasizes how "cashflows were a source of stress for customers and they needed to quickly learn how to anticipate any potential shortages so as to accurately manage their cashflows." 
Similarly, SME Division Deputy Head of VP Bank in Vietnam, Hung Dao Gia, witnessed a surge in requests for restructuring loan maturity from MSME customers—a whopping 40% of companies in three severely impacted industries (tourism, education, and transportation) across Vietnam needed loan restructuring because they had limited cash flow.  
Valentine Kayumbi, a training manager at KCB Bank in Kenya, recalls how the most pressing challenge at the time was figuring out a way to continue providing value for clients, given the impact of the pandemic across Kenya as well as other emerging markets globally:
"Our customers needed to learn how to manage cash flows during these unprecedented times, or transition to selling their products online on account of lockdown restrictions."
Kayumbi had delivered vital skills-related training programs to MSME clients for over a decade and was well-versed with how these skills-building programs were bridging the gap in access to finance for MSMEs in emerging markets. According to Kayumbi, learning opportunities delivered through the bank's non-financial services (NFS) program had given MSME customers "access to knowledge and best practices, including building successful partnerships with clients, analyzing expenses, and reducing costs."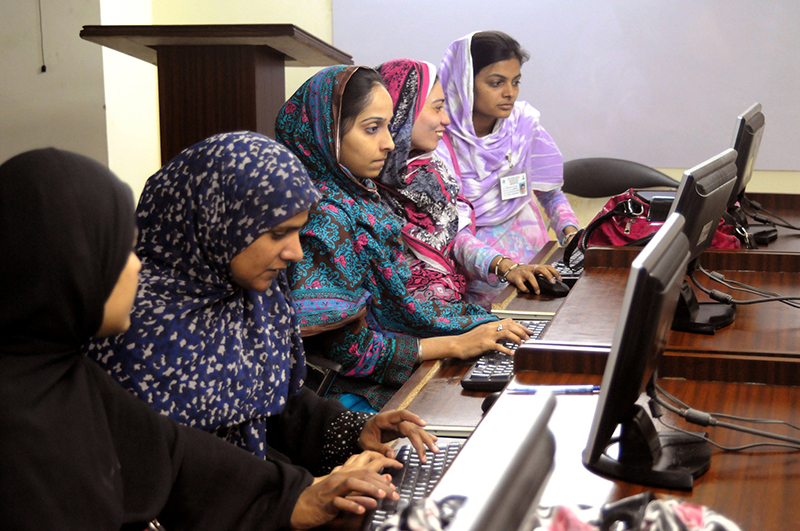 IFC's skills-building program delivered via the GLC platform enabled financial institutions to go beyond financial service delivery. The webinars built MSME capacity in critical areas including managerial skills and financial literacy, consequently enhancing their bankability. Hung Dao Gia recalls the impact of the program on VP Bank's MSME customers:
"Our customers were struggling with sustaining their businesses through the COVID-19 crisis. These webinars addressed pertinent challenges: negotiating with the bank for loan restructuring, how to make new business plans, marketing products online, etc. As a result, we noted that some customers were able to successfully negotiate loan restructuring plans with the bank because the webinars had enabled them to better prepare their paperwork."
Over 400 customers of VP Bank attended webinars offered through IFC.
In a similar vein, Taha Eskandar, Head of Al Kuraimi Bank, noted how the webinars around marketing during a crisis benefitted clients who were struggling to sell their products amidst lockdown restrictions. "In Yemen, the government reduced business hours and mobility—so our clients had to learn to market and trade via digital channels," he stated. Taha recalls a particular customer Abdul Saleh Saif, a retail business owner, who had attended all five webinars delivered by IFC through Al Kuraimi Bank and as a result had successfully digitized his business and was now making a substantial profit: "The webinars enabled him to switch to selling his products via online platforms and gave him ideas and strategies for surviving this difficult period."
IFC's skills-building programs benefit not just customers of financial institutions, but also the banks themselves. Speaking to the value add for financial institutions Taha Eskandar said, "it is very important for financial institutions such as ours to offer these sorts of capacity-building programs to our customers—it builds loyalty! Most of our clients don't have a formal background education in business management so these training programs are vital for their businesses and in turn grow the bank's bottom line. They eventually take larger loans or continue banking with us, so it is a win-win situation."
Similarly, VP Bank saw a "better than expected non-performing loan rate" despite pandemic-related challenges that Hung Dao Gia attributes to the MSME webinar series. "This is why VP Bank sees merit in investing in non-financial services," he emphasized.
With access to the premier training curriculum and content, unique methodology, and a network of global and regional learning and development specialists, MSMEs are now more resilient and better equipped to navigate today's challenging economy.
Learn more about GLC's COVID-19 response program.
Credit: WBG photo collection
---
Author(s)

---