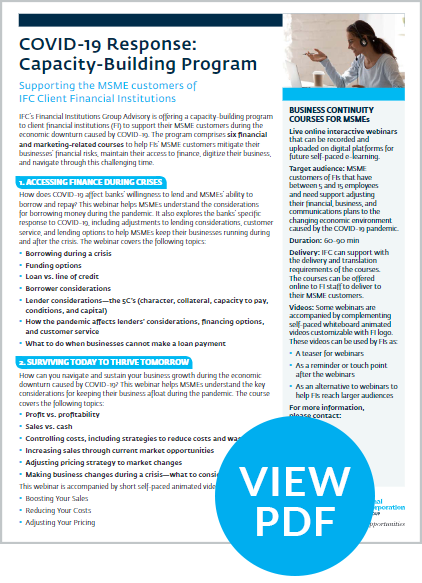 The team created six one-hour interactive webinars:
Accessing finance during crises
Surviving today to thrive tomorrow
Communicating with stakeholders during crises
Adjusting your business plan during crises
Doing business online: transforming your business for the new normal
Marketing your business online: an introduction to social media marketing
Live interactive webinars have been delivered by certified GLC trainers and offered to MSMEs through a network of 45 financial institutions in 32 countries worldwide, many of which are conflict-affected or low-income. To meet the needs of the globally diverse audience, the webinars have been translated, localized, and delivered in eight languages: Arabic, Armenian, English, French, Gujarati, Spanish, Urdu, and Vietnamese. All courses were offered free of charge. Short animated videos were developed to serve as a teaser, reminder, or alternative to selected webinars.
Learn more about the impact of the COVID-19 response program.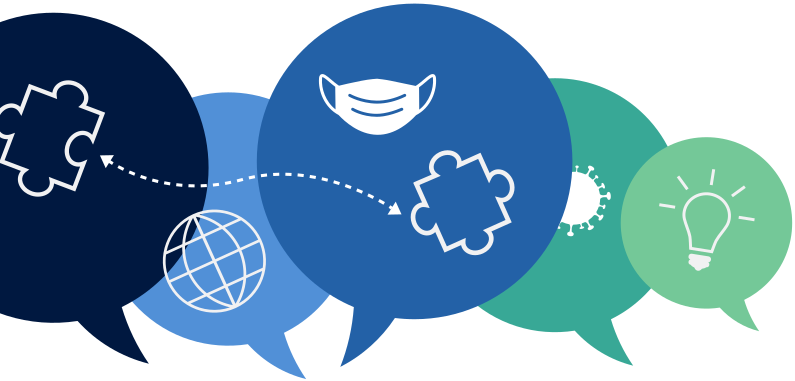 300 webinars delivered
reaching over
16K participants
worldwide
TESTIMONIALS
For MSME participants in emerging markets, the webinars have been a lifeline. "The COVID-19 pandemic has provided me with the best school ever. I have been in business for 20 years. I have received a lot of information as a result of these webinars," said a participant in Uganda. "This is timely and helpful and enables us to shift our perspective during the crisis," said another participant in Kenya. Other MSMEs from around the world described their learning experience as "insightful", "eye-opening", "thought-provoking", "enlightening", and "innovative." 
Participating financial institutions have reported strengthened client relationships: "The COVID-19 training webinars enabled us to offer tools and knowledge to our existing MSME customers at a time when our support was most critical," said Annastacia Kimtai, Director of Retail Banking for KCB Bank Group in Kenya. For financial institutions and their MSME clients, IFC's GLC program has created benefits that will outlast COVID-19. 
MEET PARTICIPATING GLC TRAINERS