Many MSMEs and corporate leaders struggle with the high stress levels. And the pressure after the pandemic is only making things worse: repair businesses, reignite morale, sustain growth, hire or retrain workforce, and adjust to the new work modality. The list goes on. So, what can we do? As learning and development professionals, we can play a major role in helping businesses get back on a strong footing. We can help rebuild, retrain, and restrategize.
But what if training professionals themselves need help? How can they rebound from changing priorities, shrinking budgets, or even personal post-pandemic turmoil; not to mention the challenges of keeping the work-life balance and surviving the roller-coaster of too much work vs. periods of no training projects at all?
By the end of the webinar, learners will be able to:
Define and understand the terms "emotional well-being", "emotional health", and "mental health". 
Hopefully get inspired by the speaker's personal story.
Tap into the four areas of action to build a strong emotional well-being and work-life balance as training professionals.
---
PRESENTER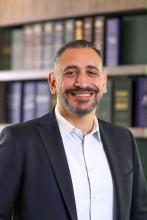 SUHAIL JOUANEH: IFC Master Trainer, IFC-LPI TPMA Assessor and Trainer
Dental surgeon by profession and a mindset surgeon by passion, today Dr. Suhail Jouaneh serves as the chief learning officer and co-founder at Better Business, a Jordan-based consulting firm specializing in training and development services in the region.

Throughout his training career, Suhail organized and implemented thousands of workshops. He trained more than 35,000 people from over 40 countries around the world, including UAE, Cyprus, Lebanon, Syria, Jordan, Bahrain, Qatar, Senegal, Tunisia, Algeria, Morocco, and others, delivering training in English, Arabic, and French.

Suhail has a vast experience in instructional design, he produced training videos for several corporate e-learning platforms, including Jadaraty.com, Edraak.com and many others. He served on several university boards, including IBTS Amsterdam and Amman Baptist School. Suhail is also a member of the International Federation of Training and Development Organization.
Suhail specializes in organizational development, culture assessment, change management, psychometric assessments, and facilitation.
He hiked borders of the North Pole, Camino De Santiago, the Sicilian Volcanos, and the Irish Kerry Way (more about that in the interview).