Interview with Marisa Truter
Grow Learn Connect: Marisa, how did you step on the path of training and facilitation? What motivated you to start delivering training?
Marisa Truter (MT): It has always been my desire to contribute to the growth of economies, not only in South Africa but also on the African continent. I realized I could contribute to economic growth by guiding South African businesses to realize their potential and start delivering extraordinary results.
---
GLC: How did you start working with IFC?
MT: The IFC Business Edge program came to South Africa in 2012 and I was invited to join the Training of Trainers session.
---
GLC: How did you progress from being a trainer to a master trainer?
MT: It was a natural progression for me to upskill myself to become a master trainer so I could upskill others. I wanted to help trainers to contribute to the growth of entrepreneurs and our economies and change people's mindsets positively.
---
GLC: Is it challenging to maintain the balance between the responsibilities of a master trainer/company owner and those of a parent/adult? How do you achieve that balance?
MT: It is quite challenging, as an organization, we have invested in a structure whereby we have a training specialist who is now also the custodian of training, coordinating all training activities and managing the quality of delivery. I must say, this has been a great investment and has helped us bring stability to the training function within the business. Again, if you want to grow the training offer, you have to build capacity and you can't do this on your own.
---
GLC: How was the company Tushiyah Advisory Services born? Where do you have offices? What does the company specialize in?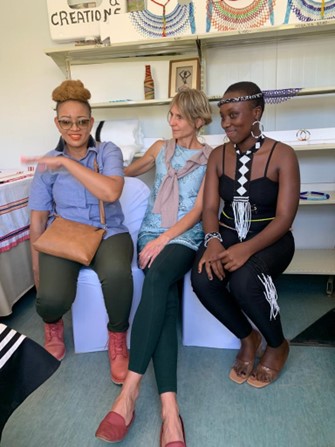 MT: Tushiyah was born from a desire to upskill ordinary South Africans to deliver extraordinary results.   
Tushiyah is an advisory firm focused on providing economic transformation and growth solutions, by finding hidden growth opportunities within corporates and small businesses. This creates value for all within the Enterprise and Supplier Development (ESD) arena in the Broad-Based Black Economic Empowerment (B-BBEE) procurement space. We also lend support for SMEs outside of direct market opportunities, delivering entrepreneurial development programs that are sponsored by our corporate partners to enable and empower start-ups and promote socio-economic development (SED). 
Tushiyah is one of the leading implementers of the Enterprise and Supplier Development program in South Africa. Over the last 13 years, Tushiyah has worked with blue-chip companies to facilitate and execute impactful Enterprise and Supplier Development solutions. Tushiyah's reach has spanned the African continent and has a national footprint within South Africa with established offices in areas where we implemented projects.  We also have the leverage to implement projects in Namibia, Botswana, Zambia, Zimbabwe, Egypt, and Ghana.
We have perfected our understanding of SME development needs, systems, and processes to support this development, and most importantly, systems and processes required to achieve corporate objectives.  Below are some facts and statistics about Tushiyah.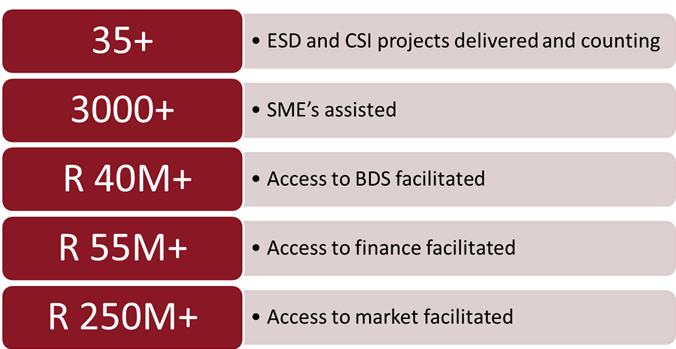 *Notes: CSI – corporate social investment, BDS – business development services, R – South African Rand.
---
GLC: What is the most frequently received feedback on your training sessions?
MT: I hope the numbers speak for themselves. Our satisfaction rate is 92.7%, and 80% of our clients are returning customers.
---
GLC: What would you like to get better at as a trainer/master trainer?
MT: I would like to monitor the journey of our participants and measure their growth over a period of time. Building closer relationships with our participants and understanding their individual needs is another priority.
---
GLC: What is your favorite part of being a trainer? 
MT: Just really understanding the audience and customizing the delivery to meet each individual's requirements.
---
GLC: List one or two training projects which were most impactful or meaningful from your perspective.
MT: I thoroughly enjoy the train-the-trainer courses. 
We have recently delivered a program with The National Business Initiative (NBI) which wished to enhance the service offerings of an Installation, Repair, and Maintenance (IRM) enterprises hub, based in township south-east of Johannesburg. To do so, Tushiyah was recruited to provide support to the Ekurhuleni West TVET College (EWC) - Kathorus Campus team, to enable them to achieve their goals through the Centre for Entrepreneurship and Rapid Incubation (CfERI). 
Our approach included:
Developing, testing, and adopting the methodology for identifying, recruiting, and selecting IRM enterprises in line with the program objectives;
Developing the capacity to assess the enterprise and skills development needs (both technical skills and business skills) of selected IRM enterprises and develop appropriate interventions to help them achieve business growth;
Linking township-based IRM enterprises with formal sector supply chain opportunities; 
Developing and implementing a resourcing and skills transfer program for the CfERI.
---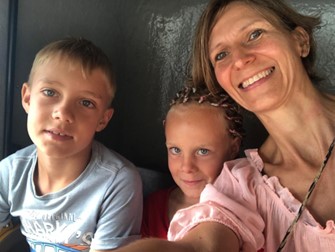 GLC: When you're not working, you are… 
MT: Spending quality time with the family; cycling or having some sort of adventure. As a family, we love traveling to different parts of our country and hope to explore the rest of Africa soon. I also love spending time with entrepreneurs in the field.