EZ37 Solutions Limited
Training
–
06:00 pm - 08:00 pm
GMT : +01:00, Africa/Lagos
Facilitating Learning ONLINE & IN-PERSON
IFC's Facilitating Learning: Online and In-Person program, which is offered completely online, enables you to make your training programs more memorable, engaging, and impactful - whether in person or online. Discover how you can convey information more effectively, hold your audience's attention, make learning more interesting for participants, and successfully facilitate training programs.
Will I receive a certificate at the end of the course?
Yes, participants will receive the certificate of completion of the "Facilitating Learning: Online and In-Person" course provided that they:
complete the prerequisite Foundations of Learning course

attend at least 80% of the "Facilitating Learning: Online and In-Person" course, and

complete all course assignments
What is included in the attendance fee?
The attendance fee covers the cost of participation as well as the assessment and the LPI fee to be paid for the certificate in case the assessment score is "Pass" or more. 
How is it offered?
This program includes 8 modules, spread over one month, for a total of 16 instructional hours. In between the sessions, participants will be expected to complete self-study work and participate in group exercises. Participants will also be required to submit videos of themselves facilitating a 5-minute and a 15-minute training segment using the techniques taught in the course.
---
Presenter(s)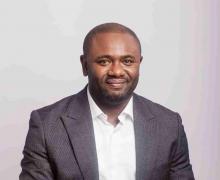 Jonathan Ikeolumba
IFC-certified master trainer, and IFC-LPI TPMA certified trainer, assessor
---